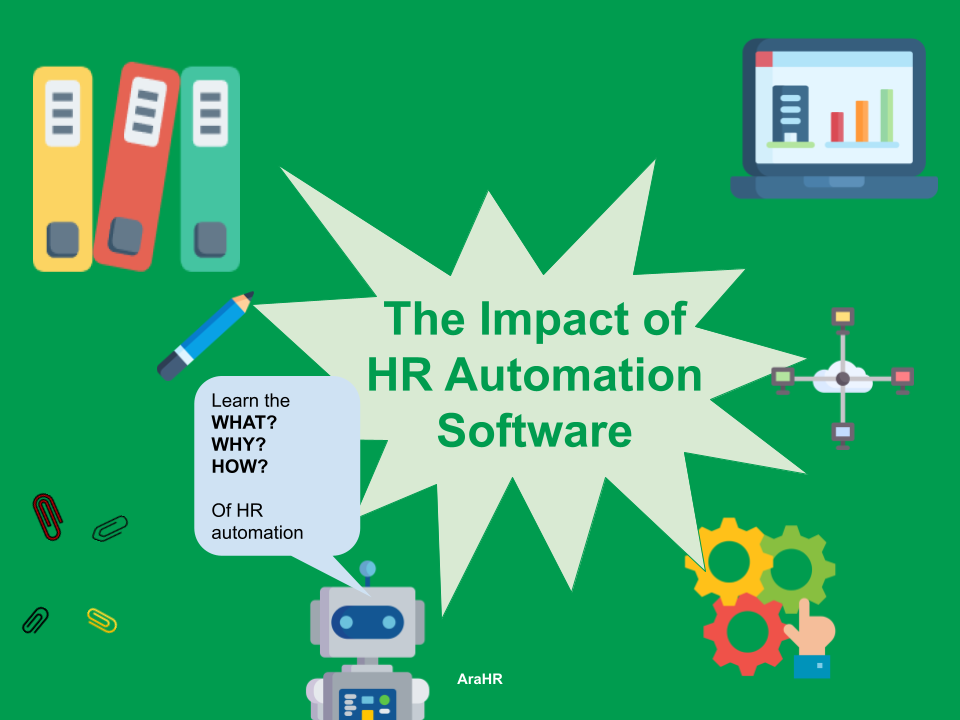 No matter how many words or sophisticated phrases you use, you simply cannot emphasize human resources' importance in both small and large businesses. Whether it's job postings, candidate screenings, onboarding, company benefits, performance tracking, training and motivating the workforce, offboarding, or ensuring that local labor laws are complied with, HR departments are responsible for completing a plethora of tasks.
Automation is invading every aspect of our lives, and HR makes no exception. Soon everything that can be automated will be automated. Today, HR management professionals are increasingly relying on a combination of enterprise Human Capital Management (HCM) software with HR automation to make their departments more efficient and save money and time. HR staff needs to adapt to the coming changes or get left behind in the dust.
HR automation is not the future; it's the present. After reading this article you will know what HR automations means, why it is important and how to digitize the repetitive people processes in your business.
You Ask, We Answer
What Means HR Automation?
HR automation enhances the HR department's efficiency by automating recurring HR tasks, freeing employees from tedious manual activities, and allowing them to focus the attention on more strategic roles of HR like talent forecast, decision-making, pipeline succession, and strategizing. 
HR automation handles many critical administrative tasks that, when processed manually, are energy-consuming and can take hours on end. Without sacrificing quality, it significantly reduces the time it takes to complete HR processes.
---
Why Should Your Company Care About HR Automation?
First of all, because automation means the future, and you don't want to live in the past, surrounded by people on the verge of burnout, buried under mountains of papers and folders, taking care of your most precious resource: people.
When companies implement HR automation, the impact is almost immediate, and soon they begin to see improvements in profit and productivity. When HR employees can get more done with automation, they also become more motivated, accomplish their goals faster, and have better morale. Companies also get more work in return for the same amount of money.
Increased precision also helps to simplify jobs. With HR automated processes, checking and managing people can be completed with a quick search. When the information is readily accessible to all people who might need it, the approval workflow is smooth and greatly simplified.
HR automation eliminates errors. Tasks like verifying timesheets, calculating payrolls, and checking leaves, can be easily done by a machine. But having them done by humans might pave the way for errors. Once set up, automation does it perfectly, without any errors, unlike the human counterpart. Error rates significantly decrease with automation.
With HR automation, you can reduce costs with office supplies, printing, and physical storage while offering convenient access to online files at any time and from anywhere.
An essential benefit of HR automation is security. When HR management personnel automate human resources, they can back up the company's data to online servers. Data security helps prevent losing years of data in the event of a fire, a theft, or an equipment failure. Automation also helps prevent unnecessary expenses, legal troubles, and tax problems caused by human resource mistakes.
What Are The Most Popular HR Processes You Should Automate?
Chances are, if you already use some degree of HR automation, you can take it a step further. According to research by KPMG, the vast majority of HR services can be partially or fully automated. You can benefit from using HR automation tools across the entire HR spectrum, including the following areas:
1. Employee Onboarding
Employee onboarding is one of the more tedious tasks taken on by the HR department regularly. Onboarding may involve significant paperwork, signing contracts, completing benefits paperwork, and other necessary duties. Automation can decrease the processing time for all of the different documents required in the onboarding process to a few hours rather than a week. From job posting to collecting resumes to interviewing and giving network access to new employees – all of these processes can be systemized and processed dynamically according to the desired workflow. Hiring, powered by HR automation, can accelerate the onboarding process while decreasing the associated costs.
2. Leave requests
There are many reasons why a team member may file a leave request – whether it be for a family event, medical procedure, educational, or something else. Calculating and approving every request manually is both tedious and time-consuming. HR staff must check the leave balance, get a manager's approval, and record the leave for payroll calculation.
With an absence management software, all these tasks are automated, without leave requests stuck in someone's inbox, lost in a sea of emails.
3. Employee personal data
In a small company, managing the personal information of employees isn't too difficult. But when a company adds employees, tracking and keeping all of the employees' personal information up-to-date can be a nightmare for HR personnel. Dynamic systems reduce the chances of data loss and manual entry errors.
4. Timesheets
Validating and tracking timesheets manually is inefficient, to say the least. It's time to say goodbye to this method and start looking for an efficient and reliable way to keep track of the working hours and calculate their value. With an automated timesheet app, data collection and validation of the information are more accurate and faster. Dynamic time tracking apps also helps to save HR personnel from manually updating an employee's records.
5. Time-off Management
If you haven't automated this complex process of time-off management, well… it's time to do it. Listed below are just a few of the challenges of manual time management:
HR staff spend way too much time gathering data from different systems
Maintaining a clean and up-to-date record of each employee is nerve-wracking
It is the opposite of working efficiently
Manual payroll calculations for each employee is time-consuming and error-ridden
Inaccuracies can result in compliance problems leading to more significant legal issues.
With a smart automation tool, the managers clearly assess teams' vacation calendar, each employee profile, and even birthdays. This tool takes over the burden of employees' attendance tracking from the shoulders of HR staff
6. Performance management
Performance management is a dynamic tool every HR manager should have. It tracks, analyzes, and measures an employee's performance and aligns it with the business goals. Many HR managers simply do not have the time to update the performance records of employees. An automated performance management software streamlines the process, keeps it bias-free, ensures accurate decision making, and makes it memorable for both employers and employees.
7. Reports
Each HR professional met at least once in their activity with the situation when an anxious boss wants "yesterday" a report with all kinds of workforce-related data. HR automation takes the stress out of this kind of problem with a powerful reporting tool that opens a world of critical insights that help supervisors and analysts to make better hiring, performance, promotion, or planning decisions.
8. Employee offboarding
Offboarding is not a fun process for either the employee or the employer. In some cases, it can feel awkward and forced. Nonetheless, when an employee is terminated, files must be collected and processed. Former employees must return company equipment, while the managers must take the necessary steps to remove the former employee from the payroll and benefits. Use automation to process every single one of these tasks quickly, reliably, and consistently to make the offboarding process more manageable and prevent any potential legal issues from taking place.
---
How Do You Know When It's Time For HR Automation?
By not automating your HR processes, you could be hurting productivity and falling behind competitors. Manual data input wastes time and productivity and leads to errors. According to CareerBuilder research, HR managers who do not fully automate say they lose an average of 14 hours a week manually completing tasks that could be automated; 28% of them say they waste 20 hours or more, and 1 in 10 (11%) spend 30 hours or more.

Automation systems can improve any number of HR processes. And it isn't just HR processes that can benefit. Other business processes like expense reporting, maintenance requests, or transportation management benefit from electronic forms and workflows.
---
Bottom Line
HR automation is not the future; it's the present.
Before spending more money and resources hiring additional employees to manage HR tasks, consider starting to automate your HR processes with dynamic HRIS software.
Automation is crucial for businesses when they notice that error rates are increasing: automation eliminates human error, the processes are intuitive and interconnected, and the updates are instant.
Companies with unsustainable operations costs may also benefit from the savings that automation can offer: you don't need to hire or train the HR staff. Each employee happily takes over part of the HR burden, and they will feel empowered and trustworthy.
Inadequate reporting should also prompt HR management to implement an HR automation strategy: any business owner relies on accurate reports to plan the company's future.
Finally, when a business is growing and expanding, automation can do the work involved with tracking hundreds of employees much more manageable.