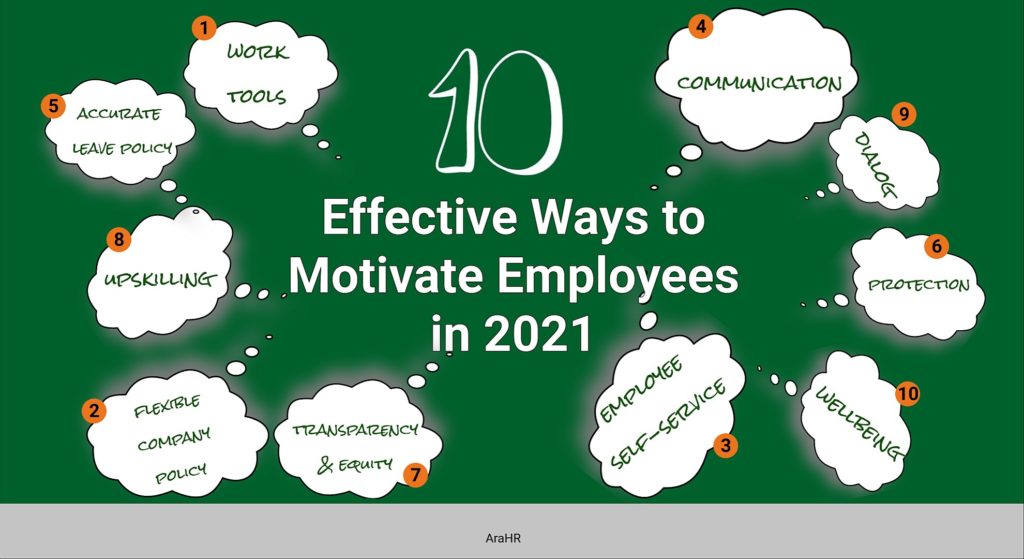 Many employers fear lack of motivation because it directly impacts productivity, client satisfaction, and innovation. For years, trends in added perks have included gym memberships, teambuilding, parking spots, lunch tickets, holiday parties, and other social benefits. As the pandemic transformed remote work into everyday practice, none of these is working anymore. HR departments from all around the world struggle to find effective ways to motivate employees. And it seems money and social gathering aren't the correct answer.
To motivate employees, you have to build genuine connections and treat them as individuals. You need to be flexible and provide a wide range of benefits, many of them unrelated to income. The main factors that stimulate employees in 2021 seem to be a balanced lifestyle, healthy relationships with co-workers and managers, and growth at a personal and professional level. Here are the top 10 methods to motivate employees and win their loyalty in 2021.
1. Provide the right tools
Any job has its tools. You can't ask for the same performance as other companies when you don't provide the same instruments. Although it is possible to complete a task without proper tools, employees will feel frustrated, overworked, and misunderstood. The set of devices may include adequate working space, safety gear, state-of-the-art technology, access to information, or the latest cloud HR software. You may also have to provide an internet connection for a remote workforce, office supplies and furniture, collaborative software, or even transportation for people and documents.
2. Add flexibility to the company's policies
HR experts advise that the one-fits-all policy doesn't apply anymore. People celebrate individuality and authenticity more than ever, and it reflects on their work performance and enthusiasm. Happy employees are more responsible and productive, treat clients better, and are more creative. A rigid company culture won't fit your workforce. Although it was like this for many years, it must change. Include particularities of different cultures and groups. For example, you may adjust the leave policy to include public holidays that meet religious and cultural diversity. Or you may adjust working hours to fit families with small children. Celebrating diversity increases work satisfaction and loyalty towards the company.
3. Empower employees by using employee self-service
It's time for decentralization. Employees must have access to their work-related documents, time-off balances, and evaluations. Employee self-service allows employees to clock in, request leave, check their leave balance, update emergency contacts and personal data, access payroll information, and more. Furthermore, web-based HR software runs in a browser and is very easy to use. Employees will be able to request a sick day without leaving their house. Participation and delegation of authority are critical factors in boosting motivation and responsibility.
4. Improve communication
The strict company hierarchy is in the past. As Gallup found out, the manager influences 70% of the team's engagement and needs to act more like a coach than a boss. Employees often overlook communication when working in the same space. But with remote work, any flaw in communication became visible and impactful. You need straightforward protocols and HR processes to make sure you create fluid workflows between employees and managers. Dedicated HR software is a start because it allows you to delegate tasks, opens new communication channels, and increases transparency. For example, you can use an employee tracking app that sends notifications to people in charge and helps you prevent absenteeism. Or use leave tracking apps that sync with your favorite collaborative tool and let everyone see who's off and for how long.
5. Avoid leave clashes
One of the reasons for employees changing jobs is an inaccurate leave policy. Employees need time off to relax and recharge their energy levels. A tired employee is a useless employee. Yet many companies don't understand the importance of absence management and make mistakes such as:
Unevenly leave distribution among employees
Inequitable leave approval
Unclear leave balances
Unsynchronized task and leave planning.
You need to gather leave data and use them to predict leave clashes and low workforce presence. Also, you need to grant employees access to their leave balances and provide easy ways for requesting leave. Responsiveness and equitability are critical and encourage people to plan their vacation based on task planning.
6. Protect employees from burnout
Efficient leave management isn't the only way to make sure employees are healthy and rested. A study published by FlexJobs and Mental Health America (MHA) reveals that 75% of workers have experienced burnout over the last year. Yes, the pandemic was a crucial factor, but it's not the only one. Studies from around the world show that burnout needs to be considered. Overloaded employees can't do their job correctly, take extra sick leave, and are easy to convince to accept a different position.
7. Promote transparency and equity
The company's culture must reflect the principles of a healthy community. Employees of all cultures, seniority, and income have to feel included, protected, and acknowledged. It's easy to accomplish transparency and equity when you use dedicated HR software. Everyone has access to their work-related data. HR apps include public holidays and time zones from around the world. Furthermore, you can custom them to match your company's policy, assign roles, and streamline HR processes. Technology is your best option for making people feel heard and acknowledged.
8. Upskill your team
Employers want skilled employees, but not many of them want to invest in training and courses. Lack of mentorship and training opportunities makes employees fall behind their peers. As a result, they upskill on their own and look for new companies to work for. Provide employees with the opportunity to grow inside the company and encourage them to enlarge their skills. Upskilling your team increases retention and work satisfaction and makes people more loyal.
9. Engage in conversation
To motivate employees, you have to know them first. Don't settle with the professional aspects of their careers. Get to know them on a personal level too. Encourage people to do the same and organize social events for special occasions, welcoming new employees or celebrating the company's milestones. These casual conversations facilitate communication and bring to your attention common issues among employees. For example, you may notice that many employees commute to work and would appreciate remote work. Or you may notice people that need to take better care of their health.
10. Take an interest in employee wellbeing
Over the years, the levels of work-related stress have increased and led to a crucial crossing point: burnout or wellbeing. A Gallup study shows that fewer and fewer employees consider their lives thriving. Yet employee engagement continues to have a good trajectory meaning that overloaded and exhausted employees continue to produce. In the short term, it's possible to sustain this trend. But in the long-term, burnout will lead to increased health costs, absenteeism, decreased productivity, low-quality products, and increased mental health illnesses. To boost morale and motivate employees, you need to carefully monitor their wellbeing, provide healthy boundaries, and sustain work-life integration.
A day off may be enough to treat the first signs of burnout. A conversation may be enough to treat the first signs of depression. People need more moral support than financial support. Motivate employees by making sure managers have realistic expectations and don't overload their teams.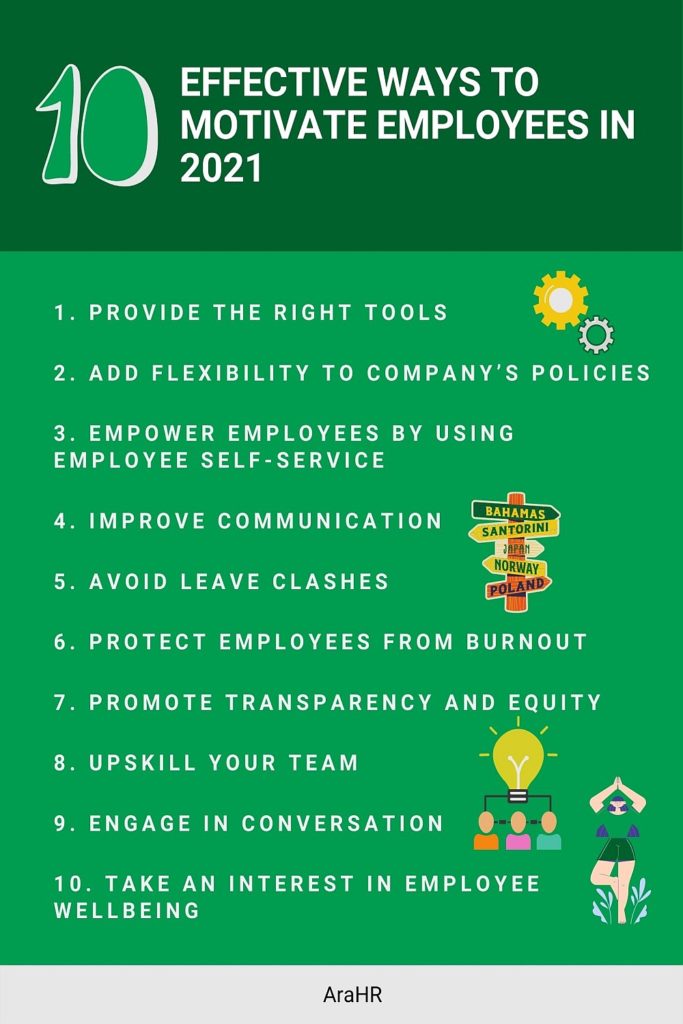 Conclusion
Lack of motivation may push employees to look for a better job. Furthermore, lack of motivation is contagious, and once one or two employees leave the team, more and more will follow. It's up to you to provide the support and understanding employees need. Sometimes, all it takes is dedicated HR software and a good internet connection. AraHR is a good start for this.
Lately, employees request coaching and mentoring instead of financial benefits. Thus your company can boost morale and motivate employees without additional costs. To have healthy and productive employees, employers have to invest empathy, compassion, and a genuine interest in employees' wellbeing.