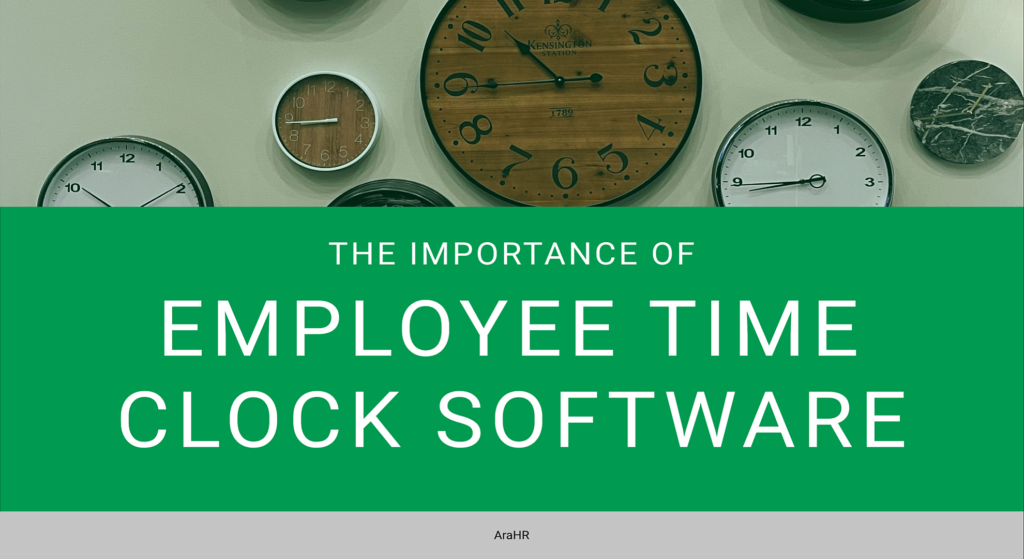 Employee time cards track worked hours instead of the classic punch cards. Each employee enters the time when start and finish working. The process repeats every day, and collected data goes to payroll. However, the method is prone to errors and confusion. The HR team has to verify the correctness of data, compute worked hours for employees switching between projects, make sure employees working from home can register worked hours, and manage the entire flow. So why not use software to track time?
What is Employee Time Clock Software?
Employee time clock software is a program designed for tacking time. It allows employees to clock in and out as they would do with a regular time card. In addition, employee time clock software replaces the HR team regarding computed worked hours, generating payroll reports, and managing public holidays.
The main benefit of using employee time clock software is the automatization of HR processes regarding time tracking. You save time and money, make sure you are compliant with labor legislation and have accurate data at your fingerprints. Furthermore, you release the HR team of repetitive and time-consuming tasks, leaving them more time and energy for complex analysis and predictions.
The Key Features of Employee Time Clock Software
To successfully implement an employee time clock solution, you must know what you need and what the software offers. Make a list of your company's requirements, such as the number of employees the app has to manage, technical limitations, budget, mobility, etc. Then, check out as many employee time clock solutions as you can find and see which one fits your needs. Most programs offer a free trial version. Here are the most important features an employee time clock software must have:
Accurate Time Tracking Tools
Employee time clock software provides easy ways for clocking in and clocking out. Employees can monitor their worked time, fix errors, and even manage their time off. The program reminds employees to clock in where their shifts start or end. Everyone will use the same clock, resulting in fewer time zone-based errors.
Accurate time tracking should be your primary goal. Not only because you avoid payroll errors but also because you can manage overtime and make sure everyone is treated equally, provide transparency and build employee trust, and improve communication and the quality of work relations.
Online Clock In and Clock Out
Aim to make remote work as straightforward as possible. A remote workforce requires transparency and self-management solutions. Employee time clock software should provide mobile solutions available from any location and using any device. Employees should clock in and clock out using a mobile phone or a tablet, from whatever location they are. As a result, you'll have accurate real-time data that help you improve turnover, reduce labor costs, and predict human resources needs. At the same time, online time tracking enhances the employee experience, increases their responsibility, and raises their performance levels.
Cloud-based solutions that run in a browser are a must. They eliminate the stress of storing data, maintaining on-premises software, and periodically updating hardware.
Exact Calculation of Worked Hours
Forget about spending your time computing worked hours and checking and re-checking the results before sending them to payroll. Employee time clock software does it for you. As the employees can enter both worked hours and breaks and split their time between multiple projects, you need a program to compute worked hours accurately and consider overtime and time off.
Employee time clock software supports multiple work schedules and time-off policies, assuring everyone is satisfied and in control of their time. Timesheets are always up to date, and you can have an overall perspective of the staff or focus on one employee at a time.
Automatic Notifications System
When an employee forgets to clock in or clock out, the app automatically sends a notification to remind them to log their time. Furthermore, employee time clock software also notifies the managers or persons in charge. You'll have a general perspective over the real-time presence, but also the possibility to manage your workforce better and predict absenteeism and time-off trends.
Notifications keep everyone in the loop, up-to-date, and informed. As a result, you'll have better communication between departments and inside teams, better task planning, and better work relationships.
Automatically Adds National or Public Holidays
National or public holidays can be a challenge when in charge of an international workforce. In many countries, public holidays change from one year to another, forcing you to update spreadsheets and calculations. However, employee time clock software adds national or public holidays automatically.
Employees will know exactly how much time off they are entitled to, which days don't count as leave and their annual leave balance. The worked hours balance will be accurate and precise, making it easy for you to manage payroll and keep a count of who worked on holidays or did overtime.
Conclusion
Employee time clock software is the solution for tracking time and managing absence. They help you prevent absenteeism and leave clashes and offer a better understanding of your workforce. Regardless, they aren't a better solution for you only. They improve the employee experience and boost their confidence, support self-management, and reduce the risk of incorrect paychecks. Employees are the principal beneficiaries of using employee time clock software. You grant them access to their data, and in return, they'll be more responsible, productive, and self-sufficient. They'll plan better their time off and be a more reliable member of the team. So when you consider switching to digital HR solutions such as employee time clock software, remember that you do it to improve the work conditions for your staff.