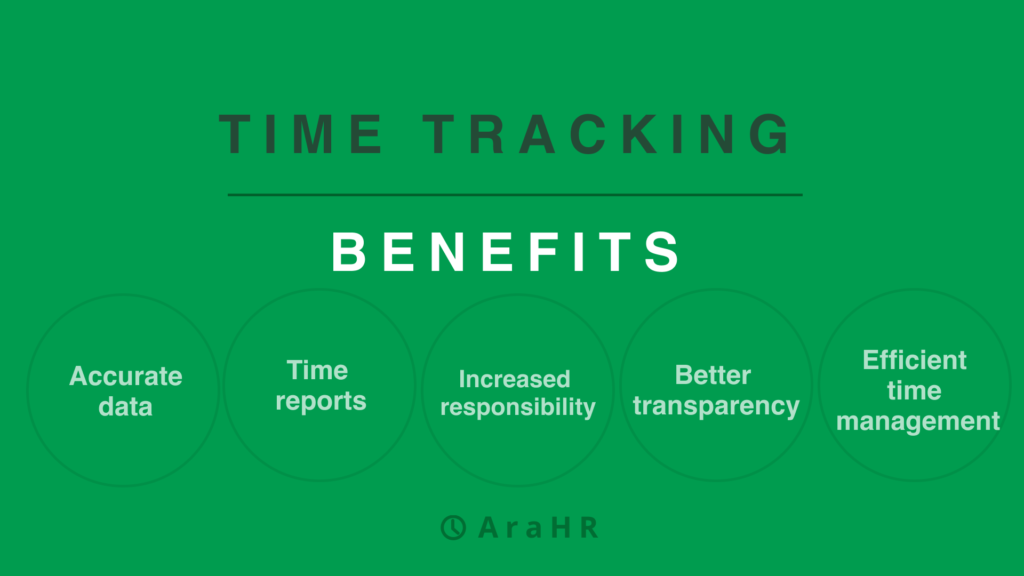 Time tracking represents the methods companies use to record employees working hours. In the beginning, supervisors dealt with time tracking by or requiring employees to punch cards physically. The system worked in favor of the employer, and collected data was used for payroll reference.
However, modern time tracking systems have evolved a lot. Instead of physical cards or paper sheets, modern companies use online time tracking software designed to register accurate data and protect the welfare of employees. Time tracking systems ensure employees receive the time off they are entitled to and that companies are compliant with labor legislation. At the same time, they assure correct payment for working overtime or during holidays.
Time tracking is essential for companies of any size. It's the easiest and safest way to optimize human resources, task planning, and budget. Efficient time tracking can save a lot of money for your business. Furthermore, it has a beneficial impact on employees' morale and increases their accountability and performance. Check out the following benefits of digital time tracking, and you'll never go back to analogous systems.
Access to Accurate Data
Time tracking software provides secure access to data. It supports different accounts types to grant customized access rights to each person. For example, the HR team member may have full access to employees' data, while employees may have access only to their records. Team leaders and managers may receive access to their teams' and departments' data. Everyone will have the information they need in a safe and accessible manner.
Furthermore, time tracking systems can store large amounts of data in a well-organized manner. That's no place for mistakes or data loss. They provide tools for reporting, notifying, monitoring, searching, and filtering, too. You'll have a complete perspective of your workforce, accurate data, and all the tools you need to be efficient and productive.
Improved HR Analysis
Access to accurate and complete data guarantees you improved HR analysis and a better HR strategy. By analyzing working hours and time off, you'll understand where you need to hire more people, which tasks cost your company more money, what departments are more efficient, and what skills your need your employees to improve. You'll be able to follow the entire history and see how their performance evolved. At the same time, you'll be able to improve your hiring strategy and adjust the perfect candidate profile to each department's requirements.
Increase Responsibility in Employees
Time tracking software allows employees to check their working hour balance and know exactly how much overtime they did. Moreover, because time tracking software provides employee self-service, employees can record their working hours by themselves, increasing their accountability and making them a part of the team. As a result, employees will be more focused, responsible, and adaptable. They'll notice their working patterns and learn to manage their time better.
Note: Do you need to motivate your employees to track time? We have a guide on how to deal with this.
Better Transparency and Communication
When everyone has access to data, they communicate better and, as a consequence, plan their activities better. Transparency is essential for employees' satisfaction. It gives them a sense of acknowledgment and trust. Besides, when everybody knows who's at work and who's not, they have a better perspective over the team's capacity and can invest their time and energy where it counts.
Editor tip:
You might be interested in the techniques to develop your team faster.
Efficient Time Management
Time tracking apps can do more than record working hours. They offer tools for time management, such as time recording systems and timekeeping. With modern tools powered by the cloud, your employees will clock in and out from any computer, tablet, or smartphone. They will also receive notifications to remind them of the time. Time management is crucial for remote teams and people working from home. But when you have easy-to-use, integrated software, self-management becomes errorless and fun.
Online Access for a Remote Workforce
Online time tracking software runs in a browser and can be used from any device. It allows remote teams to track working hours and overtime, communicate their work schedules, and contribute to the company's culture. Web-based HR apps securely store data in the cloud, have automated backups, and don't require maintenance.
They release the HR team of repetitive, time-consuming tasks. But their main benefit is empowering employees by granting them the freedom to be independent, design their work schedule, and balance work and personal life.
Simplified Payroll
Time tracking deals with as many working schedules as you want. Each employee can have a different plan, work in a different time zone, or have different public holidays. Time tracking can handle all of these without errors and automatically send monthly reports for payroll.
Moreover, time tracking apps keep count of overtime and send notifications to people in charge when an employee reaches limitations. It makes sure the company is compliant with the labor legislation and employees follow its policies.
Automated Real-Time Reports
You know exactly who's at work and who's absent with time tracking. You have accurate real-time data but also detailed histories for each employee. Therefore, you can generate the time reports you need in seconds. In addition, time tracking systems can be configured to automatically send predefined reports such as a monthly report to payroll, a quarterly report to management, and so on.
Fluid Procedures for Leave Management
Most time tracking systems also include time off management tools. Employees can use them to request time off and check their leave balances. Their leave requests are automatically registered and sent for approval. The procedures are easy and less time-consuming than sending emails or submitting paper leave requests.
Time tracking software can handle multiple types of time off and leave policies. They also allow you to delegate leave approval to team leaders and managers, which increases responsiveness and helps task planning.
Absence Trends Spotting Made Easy
When you have access to the entire history of your workforce, it's much easier to spot absenteeism and take action. You can focus your attention on a department or team. Time tracking software provides tools for filtering employee data and browsing, HR metrics, and data export tools. You have everything you need to compute complex analysis and make informed decisions. Then, you can use the information to reduce unplanned overtime, leave clashes, or overworking employees.
Conclusion
Time tracking impacts your business at multiple levels. All departments depend on time management, from employees' satisfaction to budget planning. Data collection is essential and requires the highest grade of accuracy. Invest in time tracking software that protects your data and provides secure access from any device and location. You need software that molds your workforce and helps it become more responsible and productive. Take the first step towards a digital, remote office right now!
___
Read next
You might be interested in a deep dive on What is a time clock and why do you need one.