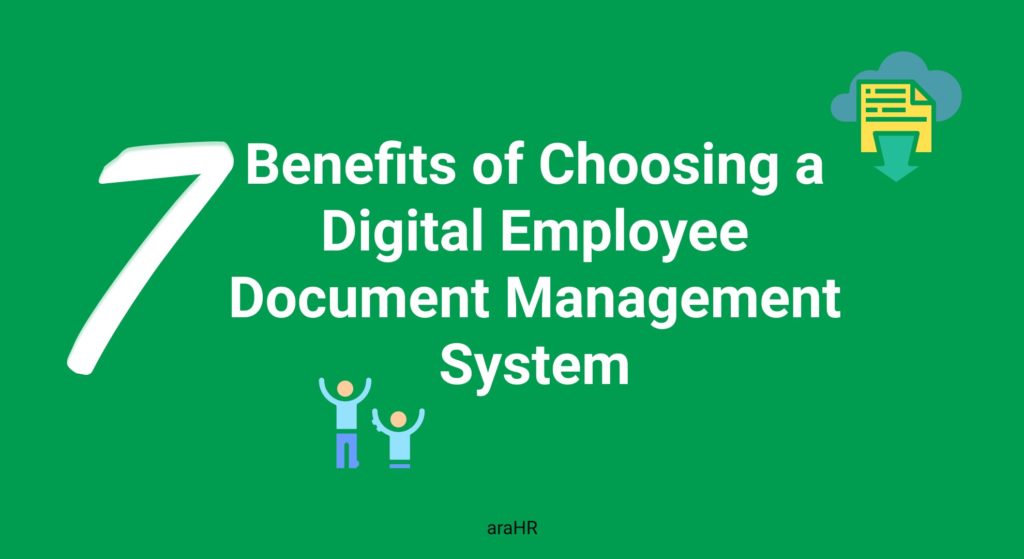 Companies have more and more HR documents to store. Personnel files, internal regulations and procedures, GDPR documents, NDA documents, the employee handbook for each employee category, and presentations for the company's benefits and training programs are just some of them. Not only that you have to keep these documents safe for long periods, but you also have to present them on demand and update them periodically or when the regulations change. And there is no place for mistakes, lost files, or expired documents.
Based on how many employees your company has, employee document management can require an entire HR team. But not if you choose a digital employee document management system. Use technology to your advantage. Release the HR team of repetitive tasks, reduce the risk of human mistakes, reduce employee document management costs, and cultivate sustainability and an eco-friendly work environment. Check out the benefits that will convince you to switch to digital employee document management right now.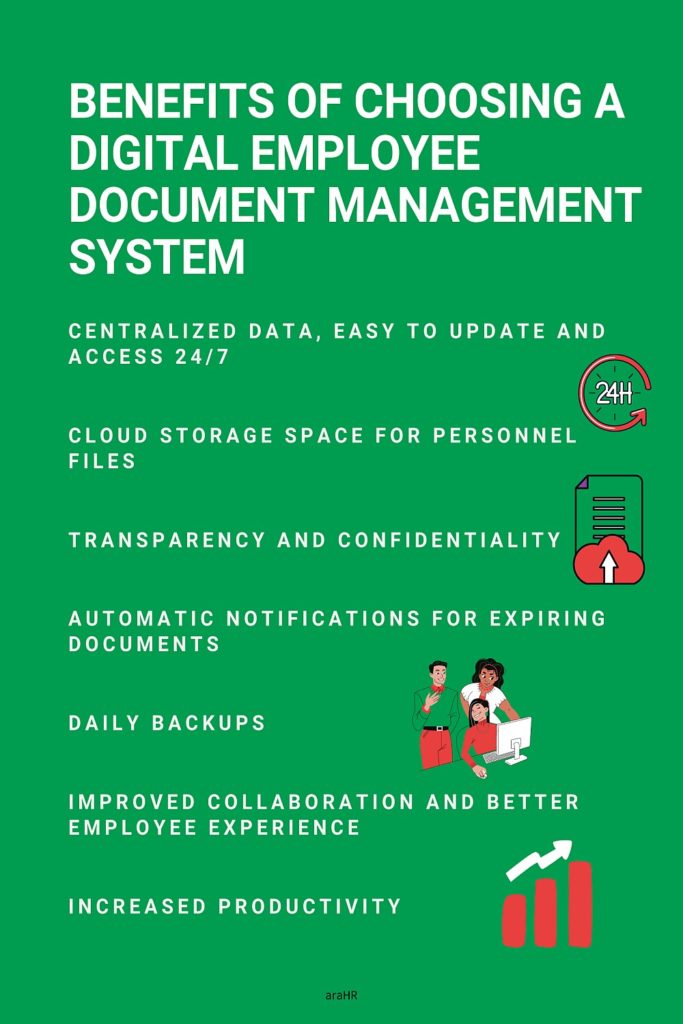 1. Centralized data, easy to update and access 24/7
Digital employee document management keeps all files in a single place and provides smart tools for accessing them. For example, you'll have tools for browsing and searching for a specific file, sharing files with other people, and updating documents when needed. If you choose a web-based management system, you'll be able to access documents from anywhere using just a browser. Imagine how easy it will be to update your company's business plan, check performance files, or add a new item to your company's assets lists.
2. Cloud storage space for personnel files
Cloud-based employee document management systems don't need installation, updates, or maintenance. Furthermore, they provide cloud storage space for all your documents. You'll be able to upload all personnel files without worrying about having enough space. Digital systems also offer better security and data encryption, making sure your data is safe all the time. With digital employee document management, you'll be able to archive employee records and store them for as long as you need. Digital archives and personnel files reduce costs and help you take a step forward towards a paperless office.
3. Transparency and confidentiality
A digital employee document management system provides more than a safe storage space. You can give access rights to employees and allow them to see their personnel files, read the company's policy, or download work certificates and records. Empower employees with access to their documents and release the HR team of endless requests each time they want training proof or a certificate attesting work experience. Transparency makes people more responsible and increases levels of loyalty and performance.
However, digital employee document management respects data confidentiality. It allows you to grant employees access only to their data and respect the privacy of others. You can give different levels of access to team leaders and managers. With just a few clicks, you can restrict or enable access.
4. Automatic notifications for expiring documents
Labor regulations change faster than ever. You need to keep up and update your company's documents without delay. But how can you keep track of expiring documents for all employees? And how can you communicate the changes? Instead of hiring an entire team to do just that, you could use a digital employee document management system. It provides secure access to sensitive data. It sends you automatic notifications when documents are about to expire. Furthermore, all employees will have instant access to the changes you've made.
5. Daily backups
Sometimes you need more than access to current documents. That's why an excellent digital employee document management does automatic backups. And because it stores everything in the cloud, you don't have to worry about space. You'll have a complete perspective of the company's records without moving a finger.
6. Improved collaboration and better employee experience
One of the major benefits of implementing digital employee document management is an improved communication flow. Each time an employee requests a document, the HR department has to assign the new task to a team member, follow its development, and send emails to the employee to inform about the progress of the request. That's not the case anymore when you use digital employee document management.
Employees have direct access to the documents they might need. They can read or download them with just a few clicks. The system provides the latest version of the documents and keeps everything in order. You not only get rid of paper files but you also get rid of email communication and time-consuming tasks. Besides, employees benefit from a better experience and an improved collaboration with the HR department.
7. Increased productivity
It may seem unusual that an HR system can increase productivity, but digital employee document management can do it. You'll have a unique repository where all the documents are safely kept. People will have access to data they need and tools for finding documents fast and efficiently. Moreover, they can access the repository from anywhere, allowing them to solve problems on the field and reducing communication time. It saves a lot of time for everybody and provides accurate data when and where you need it, hence increased productivity.
The HR department will also be more efficient and cohesive. Digital employee document management systems can be linked with other HR systems such as leave management and payroll. It becomes easier to get to know your employees, follow their career paths, grow the company's culture, and have an overview of your workforce. And when you understand people and workflows, you can make better decisions and increase their performance and work satisfaction levels.
---
It's time to reduce costs and waste, improve your efficiency, and save time. Digital employee document management systems are easy to adopt within small and medium businesses. Such cloud solutions provide secure access, up-to-date documents, a comprehensive archive system, and helpful notifications. Your HR department will enjoy access to work-related documents, while the environment will thank you for using less paper and stationery.